Donnaah Sparkle is the only High Speed Evolution coach on the east coast of the US. She masterfully and soulfully assists clients to step into the kick-ass lives they know they were born to live. She courageously guide and fiercely inspires them to deeply reorganize and transform their lives by choosing radical actions from a place of deep awareness and glorious self-knowledge.
Donnaah's supernova energy serves as a catalyst for epic personal change and transformation in individuals, family systems, and all manner of partnerships. Her ir/reverent and ecstatic approach to coaching promotes embodied awareness, bliss, and manifestation of ease and flow in life.
"Donnaah, sweet, sassy, spicy Donnaah…those are the words that come to my mind when I think about her. My journey with Donnaah has been special, potent, and scary. She was with me every step of the way. "Holding" my hand and "wiping" tears and laughing with me as my transformation occurred. She taught me skills and gave me tools to help guide me to reach my goal/intention.
What makes Donnaah different than other people I have coached with is her willingness to hold me accountable, without judgement (which was another skill I learned because I didn't even know that existed). Spiritually and emotionally, I cleared the blocks that hindered my heart from opening (or had it blocked). We often had great conversations that nourished me. It wasn't always easy, and it was worth every moment of our dedication together. I just felt that we made a great team!  Love you always." HH
Have you ever said to yourself, "I know there must be something more"? I started asking myself what more there was in my early 40s in the middle of my perfect and secure life…and everything changed. I went renegade. So, there is a reason I call myself a Radical Action and Kickassery coach…because I aim to be part of your unique, bold, and courageous solution to that question. I believe in bigger, better, and more for everyone. Not just more moments of bliss and joy in your life but a life that is bliss and joy, more and more each day.
My take on High Speed Evolution coaching is designed specifically for people ready to awaken to fearless living and wild personal freedom in body, self, and soul. I coach clients towards energy mastery using embodied practices that are available to the modern person who can't really spend their lives meditating in caves (as much as some of us would like to). I excel in helping clients create space and time in overly busy lives and design a life that fulfills them and that they won't want to run away or distract themselves from.
My style of coaching tends to be forthright, intuitive, and fierce. I tend to be very connected with the personal journeys of my clients. I've got a lot of wahoo tricks up my sleeve that will get you unstuck and moving forward in whatever area of life is currently keeping you up at night, looping through your head, or that you are trying to avoid looking directly at. I am devoted to your success and evolution. I access the energetic fields of my clients and help them to re-discover that which they already know. Energy healing is par for the course during our sessions.
While I am absolutely confident that my techniques create radical successes with every motivated client, there are some particular clients that I specialize in supporting: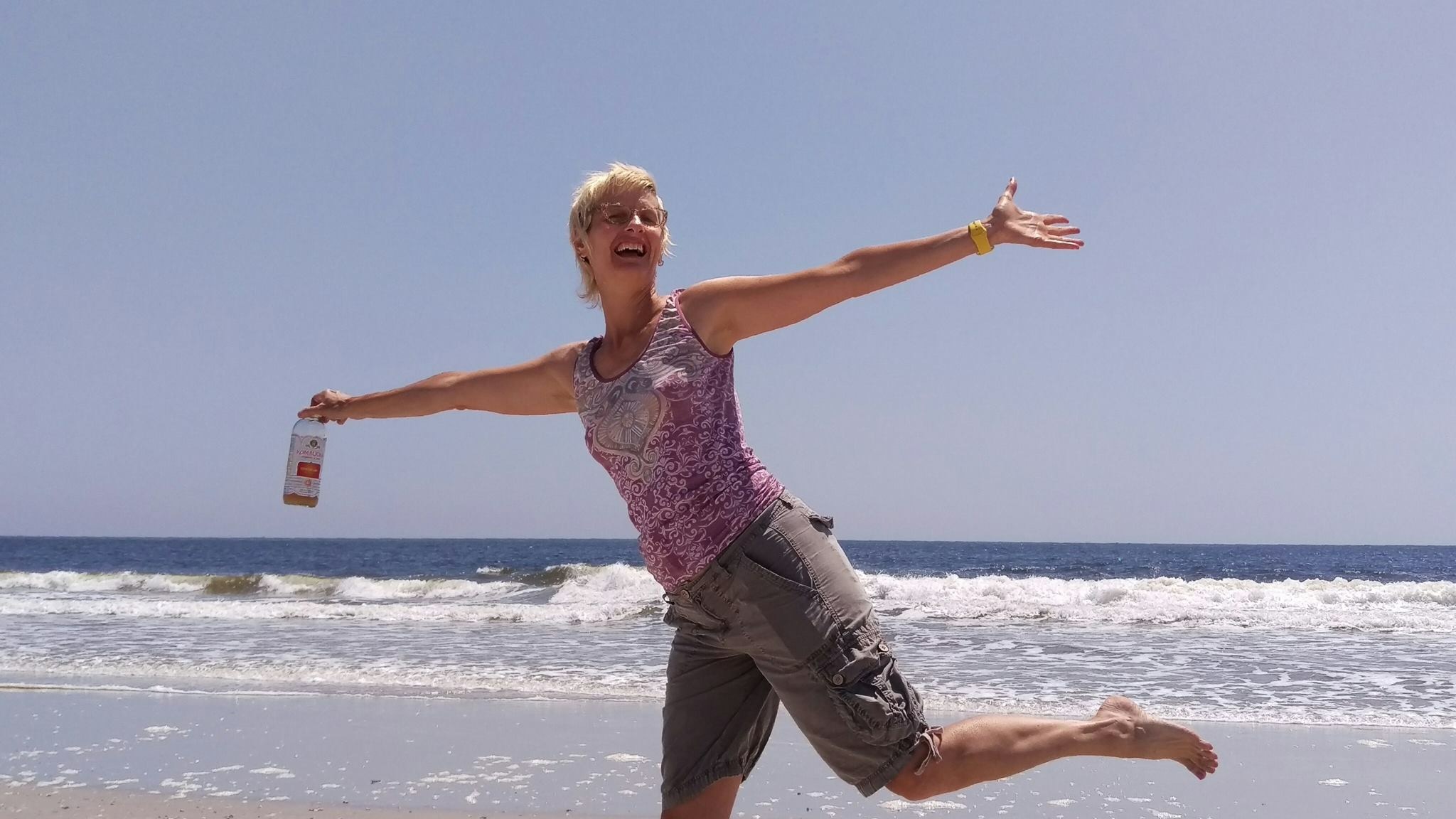 · I assist recovering goddesses and workshop junkies to get off the hamster wheel of blissful AHAs – those moments when you feel you've finally found the missing link in your journey – followed by the slow dissipation of that bliss due to lack of action and no follow though…which leads to signing up for the next shiny course, program, or retreat. I help you quit chasing yourself and take action and satisfaction with who you are, now.
· I am drawn to working with aging female athletes who feel a nagging sense of dissatisfaction despite all the PBs. I support to discover that "something missing" in their lives: their authentic, radiant sparkle that comes from loving who they are.
· I have a strong affinity for working with men, the sacred masculine, who are navigating relationship and life challenges and feel like they aren't supported on their journey.
· I also specialize in aligning with those who are considering non-traditional lifestyles, choices, or relationships, and those who feel like freaks, those who exist on the edges.
New client Consultation-20 minutes- no charge Book Here
Mini Strategy Session-30 minutes- $97      Book Here
We have a community drawing every month and give away 1 free session to 5 people
High Speed Evolution 6-month coaching package – US $5000
4- 45min individual one on one calls a month
2- 15 min emergency check-in calls a month
Email support
Includes Conscious Breath V-book
Awareness Breath Mp3
Contact me to sign up for coaching, or ask about longer coaching packages or payment plans
A lifelong learner, with a MA in Cultural Anthropology and Research Methodology, I worked for many years as a highly-skilled Research Interviewer for sensitive drug and alcohol research projects. Then, I took a long detour into Software Quality Assurance, gathering up professional certificates in Software Testing, Technical Writing, and Gerontology along the way.
Smart and curious, I felt my soul being sucked dry trying to live a life that didn't let me sparkle, a life that wasn't authentically me. I was angry, bored, stuck, and depressed. I reached in all directions for programs, teachers, belief systems, anything that felt like change. I had no concept of loving the unique and funky me that I am, much less living my life listening to the deep wisdom of my unique essence and following the threads of my soul and purpose.
In my early 40s, I began a personal odyssey that has led me to all manner of incredibly interesting, difficult, joyous, unexpected, and just dang extraordinary experiences. I got divorced, sold the historic house I had restored, left Seattle after 20 years, changed my name, broke a few hundred patterns, and hit the road. I pretty much dismantled my whole life, personas, and anything that looked like plans.
Now as I trust my Soul and walk with Mystery, my greatest desire in life is to serve others to get unstuck and find true freedom in all areas of their lives so they can step into the kick-ass lives they know they were born to live. I am a 3 times international certified life coach, wild woman trickster and wandering nomad crossing the country in a vintage trailer with my Weimaraner companion while also caregiving my elders, working a sweet part-time corporate job, and joyfully coaching clients near and far. I follow what allures me without apology. I am a healer, coach, griever, giggler, lover of life, outdoor adventurer, and explorer of emptiness.
With three coaching certifications, I am ready to masterfully guide you to create more ease, wonder, and happiness in your life, using my vast toolbox of renegade coaching techniques, including embodied practices, intuition, play, conscious awareness, creative fun, and whatever else I dream up in the moment. I am not afraid to do a little kickassery to set you on the path to your own unique flavor of personal freedom and life mastery. I walk my walk and talk my talk, all the while guided by God and my own mysterious soul's calling.
Credentials
· Radiant Sparkle Life Coaching business since 2013
· Certified High Speed Evolution Coach (certified by Inspire Life University, LLC)
· Certified Vividly Woman Embodiment Leadership Coach
· Certified Live Your Genius Life Coach
· Orphan Wisdom School Scholar with Stephen Jenkinson, People who Come Through Rain and Rune class
· Nature-based year-long Seasons of the Soul Soulcraft training, Vision Quest, and Wild Mind workshop with NW Soulquest
· 20 years as an accomplished athlete and outdoorswoman, including 7 marathons, summited Mt Rainer, Tandem Bike criterium racing, 2 years of roller derby, lengthy backcountry backpacking trips, Ashtanga yoga, Pilates, and weekly solo hikes
· Restored 2 Craftsman era houses in Seattle and built an off grid yurt in Idaho
· Stage 3 Practice member in Network Spinal Analysis and Somato Respiratory Integration
· 4 years intensive training in Advanced Energy Intuition, Medicine, and Healing
· Attuned to Reiki Master Level
· Apprenticed in Shamanic Healing
· Tantra Lineage Initiate
· BA in English Literature and Ancient Civilization with a minor in Latin (summa cum laude)
· Inducted into Phi Beta Kappa
· MA in Cultural Anthropology and Research Methodology
· Professional certificates in Software Testing, Technical Writing and Editing, and Gerontology
· Self-employed/semi-retired since my mid-40s
· 2 years living a nomadic lifestyle and 1 year as primary caregiver for my elderly grandmother
· Over a decade employed as a highly skilled Research Interviewer and Clinical Trials Monitor in HIV/STD prevention and education, Drug and Alcohol Abuse with a focus on opiate addiction, minors convicted of gun crimes, and other public health topics
· 15 years employed in the clinical research and financial transaction industries as a Software Tester and a Software Quality Assurance Engineer
· Hospice Volunteer
· 5 levels of Your Personal Evolution study with Tanja Diamond
· Vividly Woman Board of Directors Member
· Vividly Woman events: Dance Your Power, Embodied Self-Love Intensive, Sacred Sensual Splendor, and Leaders Circle
· Certified Vividly Woman Embodied Leader
· Vividly Woman Live Event Coordinator
· Vividly Woman Live Event Coach
· Vividly Woman Live Event Co-Facilitator
· Vividly Woman Teleseries Coach
· Discover Your Genius Program
· Live Your Genius year-long Program
· Discover Your Genius Event Facilitator
· Leverage your Genius year-long Business Course
· Process Prodigy business systems workshop
· New Self, New World with Philip Shepherd
· Tending our Wild Female with Christiane Palmas
· Empath Empowerment Support Group
· Compassionate Listening Training
· Transform Your Inner Critic Training
· Life-Design Adventure Program with Alex Baisley
· Clearing Abundance Blocks/Ultimate Abundance Course with Christie Marie Sheldon
· Freedom to Shine program and Freedom to Thrive programs with FiaLynn Crandall
· Abundance Breakthrough with Morgana Rae
· 100 Day Challenge Program
· Portal into the Feminine with Pamela Madsen
· Hold Me Tight program
· Womb Awakening coursework
· Sister Sacred Circle Facilitator
· Goddess Hiking Circle creator
· Embodied Voice and Singing Shaman workshops with Christa Rey
· Ordinary Courage program with Brene Brown
· Upcoming trainings in death mastery, death doula work, and year long Energy Mastery program with Donnie Epstein
Ethics describes to you how I operate, my business practices, my promises to you as your coach, and my expectations of you as my client.
I am open to working with diverse clients, including those who identify anywhere on the gender spectrum, of all ethnic backgrounds, belief systems, sexual persuasions and expressions, political beliefs, and/or traditional and non-traditional lifestyles and choices. I do reserve the right to decline you as a client if I feel we are not a good fit for any reason. In such cases, I am happy to refer you to another coach or support network. I aim for success and the highest good for all my clients and for myself.
Everything you say to me is confidential. I respect above all else your safety and peace of mind – this is paramount to me and an integral part of our process. You have the absolute right to confidentiality. I cannot and will not disclose to anyone what we discuss in session.
If you are partnered, I do not require you to tell your partner or spouse that you are working with me. I will hold your confidence and trust your knowing; however, I prefer you inform them.
I will hold you with my full presence and fiercely and lovingly guide you to deeply experience, and integrate all parts of yourself during each session.
As your coach, I promise to always be forthright, authentic, and honest with you.
I am qualified to provide coaching services and to suggest actions as your coach. As my client, I expect you to assume full responsibility of your actions, including whether to follow, act upon, or implement my suggestions.
I promise to continue to evolve as a person to care for myself and to serve you better.
I work with 18 and over clients only.
I will not sell or share your personal information with anyone.